PROJECTS IN THE PICTURE
HETO Agrotechnics produceert tuinbouwmachines. Maar vooral de capaciteit om maatwerk te leveren wordt door de klanten zeer gewaardeerd. Iedere locatie heeft immers weer zijn eigen vraagstukken en specialisaties.
Wij denken graag met u mee!
REVIEW
LATEST PROJECT
HETO CONVEYRBELTS
The logistics of chicory from harvest to processing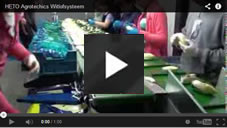 In this project, the chicory is grown in the open ground in a warehouse. The HETO conveyorbelts are used to transport the chicory heads from the harvest bed to the processing area.
>> read more